User:NJMedic2535/NPS Toll HOV
From Wazeopedia
Toll Roads / Passes
Although not all national parks charge admission, those that have gated fee-collection entry points should be considered for mapping as toll roads. In addition to marking segments as tolled, Waze includes the functionality for displaying toll prices as outlined in a full article.
Proper toll and pass functionality is especially important for parks with multiple entrances and exits such as Zion, Yellowstone, Yosemite and others where avoiding a route through the park (to avoid tolls) could be much longer than through-routing.
Local leadership should be consulted before mapping any single-entry NPS locations as tolled.
To allow full functionality of the "avoid tolls" feature for users who have an America The Beautiful Pass the entrance segment must have restrictions configured as outlined within Partial Restrictions.
Skyline Drive in Shenandoah National Park, as an example, has multiple entrances that are all toll-free for pass holders.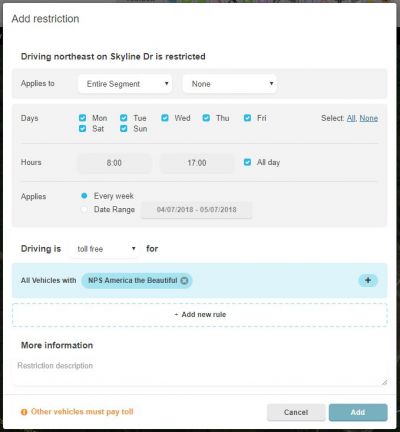 *The "Toll Road" checkbox is insufficient - toll free settings are via "add new" on the time-based restrictions list.
Click the pass name to expand the selection list.